The Canadian housing market has now had a full quarter to absorb the impact from Guideline B-20. The new stress test, put in place by the national lending regulator, requires all low-ratio borrowers of new mortgages to qualify at either the Bank of Canada's benchmark rate (currently 5.14%) or their contract rate plus 2%– whichever is higher.
This new measure is intended to curb high-risk lending practices and protect Canada's lenders, yet the largest impact has arguably been on prospective home buyers, who've seen their borrowing power slashed by an average of 20%, say experts.
A National Slowdown in Sales
It's apparent the measures have had a hand in the recently cooled market; March national home sales were 22.7%lower than in 2017 reports the Canadian Real Estate Association, and the average home price slide 10.4%, to $491,000.
CREA President Andrew Peck attributed the slowdown to B-20 and the doubt it has raised among home buyers. "Government policy changes have made home buyers and sellers increasingly uncertain about the outlook for home prices," he stated. "The extent to which these changes have impacted housing market sentiment varies by region."
CREA reports that the majority of sales declines were observed in British Columbia and in Ontario's Golden Horseshoe market – indicating that conditions were down for houses for sale in Hamilton and houses in Mississauga, in addition to the softer Toronto detached market.
B-20 Took a Bite Out of Budgets
But how do Canadians feel about the new measures? The majority have a positive take, according to new survey data from Zoocasa – at least, the ones who've heard about it.
Perhaps the most surprising finding from the survey – which polled just over 1,400 respondents from across Canada – was that a full 38 %of Canadians had not heard of the stress test at all. Those who had, however, were generally in favour: 52 %support B-20, while 24% disagreed, and 24%weren't sure.
An additional 48 %agreed the new measures protect the Canadian economy, with 20% in disagreement and 33% unsure.
However, while Canadians feel stress testing is warranted, there's no denying it's had a negative impact on purchasing abilities, especially for first time timers, with 48 %agreeing B-20 is financially harmful for newbie buyers.
Market watchers also point to the implementation deadline of January 1 as a catalyst behind an unseasonably strong December market and quiet January, as buyers rushed to close deals before being subjected to the stress test.

The Impact on Buying Intentions
Of survey takers who purchased a home between October 2017 and March 2018, 48% said the looming deadline didn't impact their purchase timeline. However, 27% bought their home sooner as a result. Six %delayed their property purchase, while 19% didn't know about the new regulations.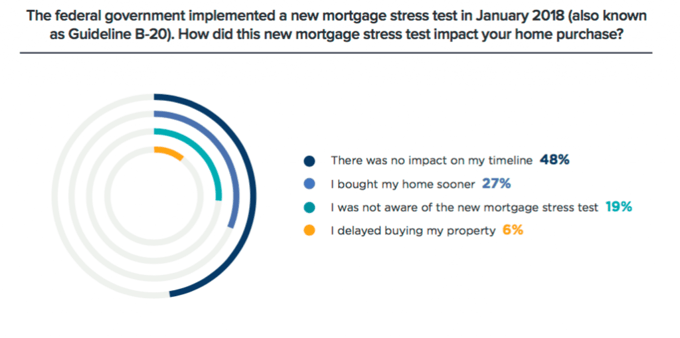 As well, while nearly half – 40%– of respondents stated the stress test didn't change their intention to purchase a home, 5% changed their minds as a result, option not to buy a home, while 15% of Canadians now feel homeownership is out of reach altogether.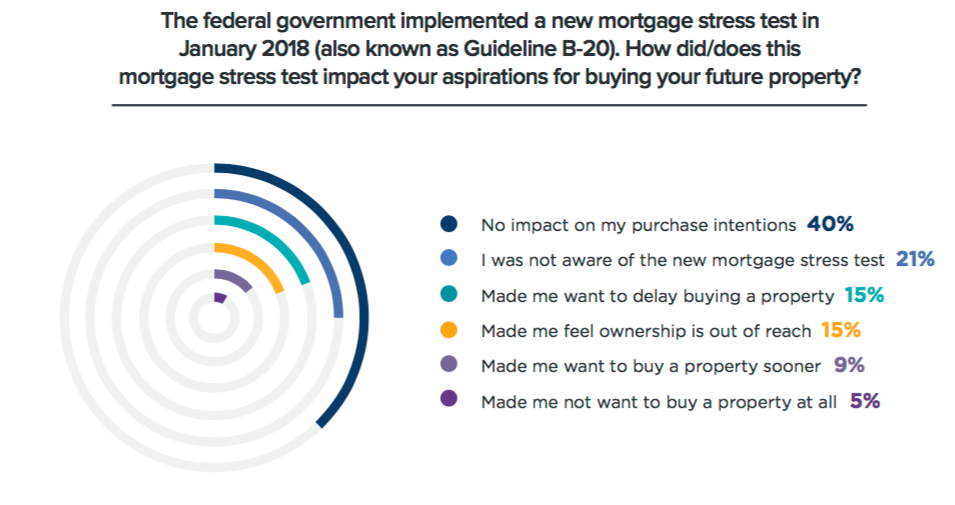 Brokers Can Help Borrowers Navigate B-20
In this changing mortgage landscape, it's more important than ever for borrowers to work with a professional to assess their best home financing options. Securing the most affordable mortgage rate possible can go a long way in passing the stress test, while other borrowers may want to explore whether it may be beneficial to go the high-ratio borrower route. (While those with down payments below 15% have been stress tested at the BoC's benchmark rate since autumn 2016, they often qualify for lower rates than their low-ratio counterparts, the which present significant savings, outweighing both stress testing and the premiums they'll pay for default insurance.)