What is a Digital Mortgage Platform?
A Digital Mortgage Platform is the next step in the evolution of mortgage origination systems.
Previous generations of mortgage systems (software, hardware) exists largely in closed, siloed environments. These environments create inefficient workflows as communication to and from the mortgage origination systems is largely inflexible. The result is lost revenue due to the limitations of the system.
A Digital Mortgage Platform solves these problems by being open and interconnected. Improved workflows and increased efficiency is the natural conclusion of optimizing a Digital Mortgage Platform to fulfill your unique business requirements.
In a more literal sense, a Digital Mortgage Platform is a cloud-based software solution for mortgage origination. Primary features include a mortgage application and documentation intake portal for borrowers, cloud-based storage of all applications and documents, team-based roles and permissions systems, and the ability to connect with third party systems and software.
With a Digital Mortgage Platform, the opportunities for increased revenue growth are boundless. Product offers can be made in-context within the mortgage application funnel. For example, the Digital Mortgage Platform could seamlessly offer home insurance to a borrower at the exact time it becomes relevant in the home buying process.
Additionally, a Digital Mortgage Platform addresses McKinsey's (McKinsey is a large, influential management consultancy company) framework for the three rationales for technology adoption:
Market competition
Adopting a Digital Mortgage Platform gives a massive technological edge over the competition. The majority of institutional lenders have built their mortgage origination systems and processes over the years in a haphazard way, solving infrastructure related problems with the primary goal of simply keeping things running – without regard for the efficiency of employees or even the borrower's mortgage experience. As a mortgage broker, utilizing a Digital Mortgage Platform provides advantages over institutional lenders in terms of both service and efficiency.
Bottom line pressures
A Digital Mortgage Platform greatly increases brokerage efficiency. Efficiency is increased through improved workflows, automation, and the implementation of artificial intelligence (including machine learning) where applicable. Since each in-house mortgage broker can originate more mortgage loans with the Digital Mortgage Platform, your brokerage's bottom line is greatly increased.
Consumer experience
Consumer experience vastly improves with the implementation of a Digital Mortgage Platform. Consumers have come to expect to Apple-esque experiences, and they seek out these experiences whenever possible. Digital Mortgage Platforms low-friction approach to mortgage origination are designed with these modern consumers in mind. Automation and artificial intelligence reduce the tediousness of the mortgage application process as borrowers receive critical information in minutes as opposed to weeks. For example, after receiving a mortgage application, a typical mortgage broker may request a list of documents for the borrower to send them within a time span of 1 hour to 2 days. With a Digital Mortgage Platform, there is no delay. Documents are requested instantaneously upon submission of the mortgage application through rule-based artificial intelligence (which can be easily customized).
What does a Digital Mortgage Platform do?
A Digital Mortgage Platform provides two portals:
A borrower portal for application and documentation submission. The borrower portal additionally provides a secure space for the borrower to complete other actions necessary for their mortgage approval.
A mortgage broker portal for application and documentation review and approval. It is the central hub where mortgage brokers log-in and operate on a daily basis.
Some DMPs also provide a lender portal:
A lender portal can facilitate with underwriting external mortgage applications for loan origination purposes. This functionality could for example, allow a credit union to accept mortgage applications directly from the mortgage broker channel. Canadian mortgage brokers comprise roughly 30% of all mortgage originations annually across Canada.
It connects systems:
The digital mortgage platform connects to other systems and sends relevant data to them (CRMs, calendars, Zapier, Etc).
It provides a complete suite of functionality to originate mortgages:
Credit bureau/liabilities pull
The ability to submit deals to various lenders
Deal compliance functionality
Roles-based permissions systems for teams
GDS/TDS calc
Facilitates communication between borrower and mortgage broker
It negates the need to build in-house systems:
No need to spend a fortune maintaining in-house solutions.
Digital Mortgage Platforms are constantly updated with new features and the latest security.
Your data is "yours" and never "locked in" if there is ever a need to migrate your client database to another system.
Taking care of business – from application to close
Digital Mortgage Platforms are a one-stop-shop for your borrowers. From world class intake/lead generation funnels to the simplest most intuitive mortgage application there is, Digital Mortgage Platforms are designed with the borrower's experience front and centre. This is a huge departure from the previous generation of mortgage origination solutions, where mortgage applications were arduous, unintuitive forms – whether paper or PDF.
The advantages of providing a borrower portal are numerous. Easily communicate with borrowers inside their portal, where you are equipped with the proper tools to address their needs quickly and easily. No more sending hundreds of e-mails back and forth with dubious attachments. A borrower portal also provides a platform to offer relevant products in-context, such as an offer to purchase home insurance right at the point of the mortgage process where they need it.
Flexible role-based permission systems and referral routing
A Digital Mortgage Platform can adapt to the needs of your brokerage. No matter how you have your teams structured, role-based permissions have the flexibility to accommodate virtually any setup.
Control who can see deals assigned to teams, and who can only see deals assigned to themselves. Control default deal assignments from various intake portals and route various referral sources to specific teams and team members. You can even visualize how various teams are performing on a dashboard, which is excellent for reporting.
Automated compliance
As compliance is largely an issue of ensuring appropriate borrower data, consent and documentation has been gathered, the vast majority of it can be automated. Many Digital Mortgage Platforms keep detailed records throughout the mortgage origination process of who performed each action (whether the mortgage broker or borrower), what the action performed was, and the exact date and time the action was performed. Compliance, which previously was a tedious task, is massively optimized through the use of a Digital Mortgage Platform.
Workflows and efficiency supercharged by artificial intelligence
By being a "single source of truth" for your brokerage's mortgage application and document data, Digital Mortgage Platforms have all the resources they need to integrate powerful artificial intelligence and machine learning algorithms. Much of loan origination is based on a series of decisions. By using artificial intelligence many of these decisions can be automated, increasing the output of a mortgage broker. Digital Mortgage Platform companies (and other companies in the Fintech field) employ cutting edge artificial intelligence and machine learning experts at considerable cost. The full expertise of the world's best and brightest in the field of artificial intelligence is available to you through a Digital Mortgage Platform.
Automated in-context product and service offers
Marketers like to show people an offer at "the height of their interest" as the chances of the person taking a desired action are greatly increased. The flow of a Digital Mortgage Platform's borrower portal creates opportunities to do exactly that. For example, your business could offer additional home insurance at the exact moment the borrower learns they will need it in order to buy their new house. In-context selling is a powerful tool, as it offers the ability to sell each borrower multiple products, greatly increasing the lifetime value – not to mention the retention – of each customer.
Integrate with your existing systems and favourite software
With a Digital Mortgage Platform, having your data locked into a proprietary system is a thing of the past. No longer are you held hostage by having your own data locked away in a black box. The new wave of Fintech software is all about connectivity between various systems and platforms. One piece of software can not perform all tasks optimally, so our workflow and experience improves when we connect our favourite pieces of software together. Digital Mortgage Platforms allow us to use any CRM that we want, whether that be Salesforce, Pipedrive, Zoho or something brand new that comes out in the future and takes the world by storm. The flexibility is there to increase productivity by not only using the tools you already know and love, but also through the ability to take advantage of opportunities presented by the yet unforeseen software of the future.
Adaptability to various business/team hierarchies
Digital Mortgage Platforms are designed to work within a wide array of business/team structures and hierarchies. Many Digital Mortgage Platforms originated by serving the mortgage broker market, in which it is fairly common for structure of the mortgage brokerage to vary considerably. The result is the majority of Digital Mortgage Platforms are built from the ground up to be flexible enough to fit virtually any business structure requirements.
How can a Digital Mortgage Platform improve borrower experience?
Digital Mortgage Platforms streamline interactions between your borrowers, brokers, and a broad range of technology systems. This helps you realize substantial benefits in key areas:
Exceptional customer experience
Digital Mortgage Platforms offer exceptional borrower service by being built ground-up with the borrower's experience front and centre. Borrowers have come to expect modern, simple, Apple-esque experiences with technology in all aspects of their lives. The financial industry has lagged painfully behind other industries in this regard, and created a massive opportunity that has resulted in a thriving Fintech industry.
Paradigms have shifted to a service-first model. Borrowers are no longer captive to their local branch. They now have access to a vast array of mortgage lenders at the tip of their fingers. Competing at this elite level of service requires the cutting-edge experiences that only a modern Digital Mortgage Platform can provide.
More efficient mortgage loan origination
With the increase of efficiency through improved workflow, artificial intelligence and machine learning algorithms, individual mortgage brokers have greatly increased output. Tasks that previously took days are reduced to minutes (requesting documents, e-signing instead of physical signatures), and modern CRM software ensures continuous touch-points with every borrower that enters the system. Though the modern mortgage broker supercharged with a Digital Mortgage Platform has far greater output than the traditional mortgage broker, they are actually doing less "work" through the magic of automation. This results in happier brokers as the quality of their work (and work life) is greatly improved. They are free to focus on higher leverage tasks while the tedious work is performed automatically by the Digital Mortgage Platform.
Increased lender bonuses Lending cost reductions
By using a Digital Mortgage Platform, it is possible to validate a deal and ensure it meets a lender's guidelines before it is even submitted. This increased efficiency provides opportunities to request bonuses discounts from lenders, as the lender spends far less time underwriting deals that are originated from a Digital Mortgage Platform.
Improved profitability
More efficient loan origination, automation and happy brokers (due to performing "higher quality", less tedious work) all lead to an improved bottom line. Additionally, with each mortgage broker handling more mortgage originations, brokerage funds that would have been reserved for additional staff are freed for other profitable incentives.
Improved customer retention
The positive customer experience provided by a Digital Mortgage Platform is the most direct reason for an increase in lasting customer relationships, however there are many other tertiary reasons. For example, in-context offers increase the likelihood the borrower will become a customer of more than one of your business' product lines. The more of your products the borrower uses, the greater the likelihood of retention is. In addition, automations through CRM integrations such as automated reminders and check-ins help keep your brokerage top of mind for future products and services.
Why invest in a Digital Mortgage Platform now?
The mortgage market in Canada is primed for a digital mortgage gold rush, as borrowers of all age groups are living increasingly digital lives. A Digital Mortgage Platform is exceptionally ideal for this transition period, as it provides an "omni-channel" solution. An omni-channel solution means it provides a way for borrowers to start a mortgage, continue a mortgage, and complete a mortgage in any sales channel they prefer. For example, a borrower could start a mortgage application in a branch location, and then continue it at home. Or a borrower could start a mortgage application at home, and then continue it over the phone with a branch employee. With the flexibility offered by a Digital Mortgage Platform, the risk of alienating less technical borrowers is entirely negated, as it is equally at home in any sales channel: In-person, over the phone, or entirely online (or any combination of these).
Take a test drive
DMPs are advantageous in that they can be very quickly installed with low, or even no setup fees. They can be deployed across a brokerage in days – not months. If the DMP is not a fit for the brokerage it can be uninstalled just as quickly and easily. This negates the majority of the corporate risk associated with upgrading infrastructure.
Future-proof your business
Since competition between mortgage origination is no longer limited by a borrower's geographical proximity to a branch, the need to offer a world class digital mortgage experience becomes paramount. A Digital Mortgage Platform provides the opportunity to leap-frog competitors in-house initiatives – all at a fraction of the cost. While other companies sink time and money into their legacy systems, building a mountain of "tech debt" (a term used by software engineers to describe systems built on older technology that are difficult to work on or update), your brokerage will be streamlining workflows, gaining productivity and increasing profit.
Growth opportunities for early adopters
The best time to invest in a Digital Mortgage Platform is right now. Early adopters of new mortgage technology will be well positioned for the changing mortgage origination landscape. By the time competition is implementing modern mortgage origination technology, your brokerage will have already established a more secure position in the market. Your marketing and sales teams could be years ahead in terms of materials and processes, resulting in increased market share.
Attract great talent to your business
It's no secret that brokers prefer to work smarter, not harder. Attract and keep high performers by putting your brokerage's commitment to modern technology front and centre. Provide your brokers with agency over how they do their work so they can work as efficiently as possible, with a workflow that works for them. Reinforce your brokerage's commitment to efficiency, progressiveness and creativity with a Digital Mortgage Platform.
Checklist for evaluating Digital Mortgage Platforms
The right Digital Mortgage Platform provider can have a significant impact on the future success of your mortgage brokerage.
Key features to look for
Custom branding (your logo, your team name)
Flexible multi-borrower/multi-account support
Secure application submission to a variety of mortgage lenders
Powerful team and corporate level management
Activity feed to display important info and dates
Easy connectivity to popular CRM, marketing or other software
Digitally captured client consent upon app submission
Excellent mobile experience for both borrowers and mortgage brokers
mortgage broker "roles" and deal visibility settings within teams
Automated deal assignment
Intercom integration for live chat with borrowers during the application process
Painless deal archiving, filtering and sorting
Two-factor authentication for increased login security
Automatically requested deal documentation upon app submission
Single click PDF packaging for lender submission
High conversion custom-branded affordability calculators/lead funnels
Create and request E-signed documents
Manage and track referral business with ease
Send updates to borrower via text message (SMS)
Receive updates from borrowers via text message (SMS)
Internal deal notes
Marketing insights: Google Analytics and Facebook Pixel integrations
Auto document upload reminders for borrowers
Multi-lingual translations
A lender portal to accept external mortgage applications
Priority live chat / phone support
Finmo resources
Finmo help centre
The Finmo help centre is a searchable index of over 130 articles on Finmo. The articles are grouped into easily navigatable categories, and it is an indispensable resource for self-learners. We understand that not being able to find an answer to a problem can impact productivity, so we strive to provide the best documentation of any Digital Mortgage Platform.
Finmo Youtube channel
The Finmo YouTube Channel contains all of our video resources. It has more than 50 videos, including training videos, webinar sessions, tips and tricks, and more! It's a great way for visual learners to get acquainted with Finmo quickly. We recommend starting with these Finmo introduction videos.
Customer success team
Our customer success team is available during regular work hours (and often after hours) through the following channels:
Finmo internal survey
On January 28th 2020, we performed an online survey of 129 of our users.
Do you believe Finmo is helping you close more deals?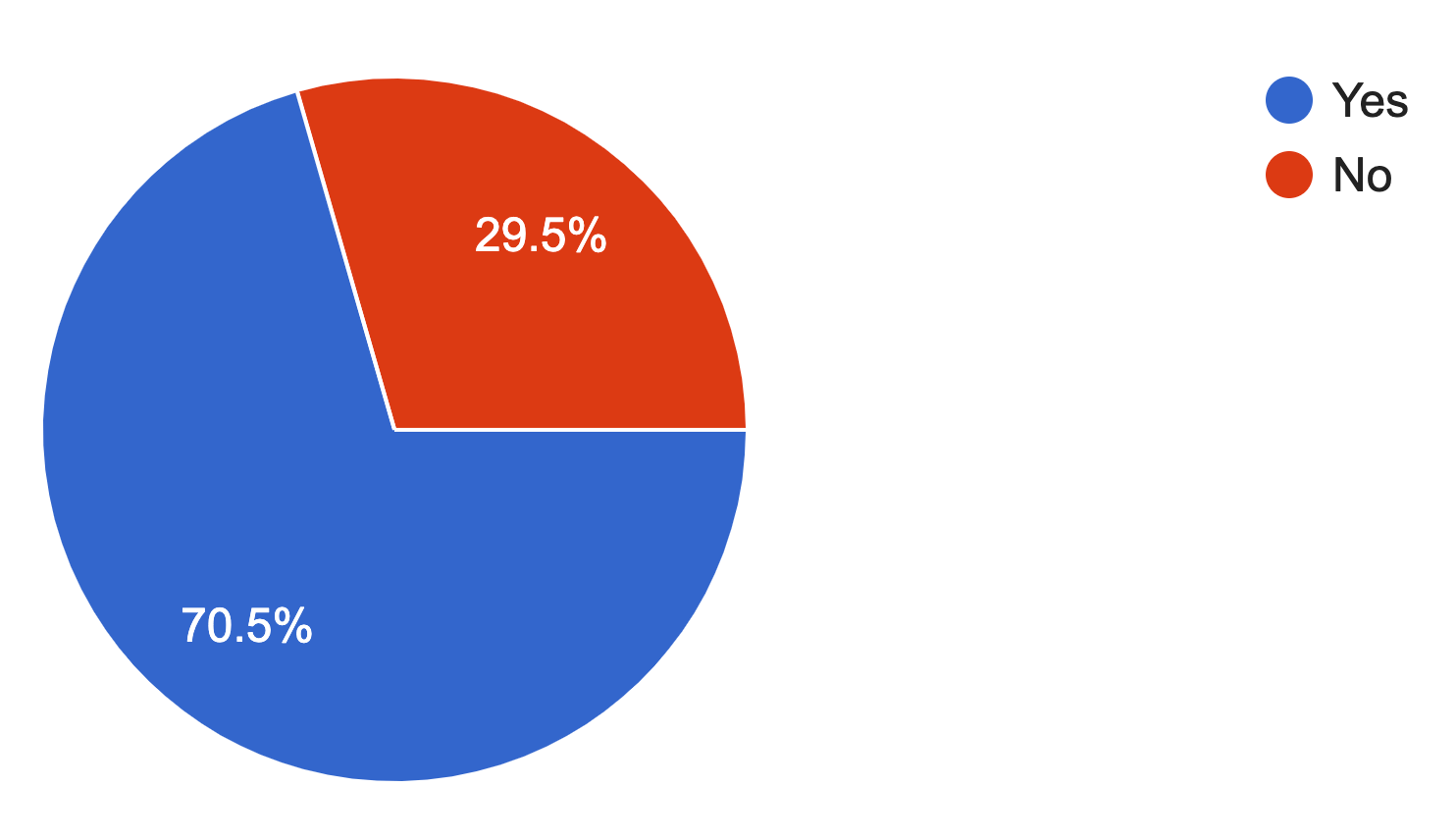 How would you rate the customer support available to you?

How likely would you be to recommend Finmo to a colleague?

---
Finmo user reviews
Finmo has more than 50 five-star Google reviews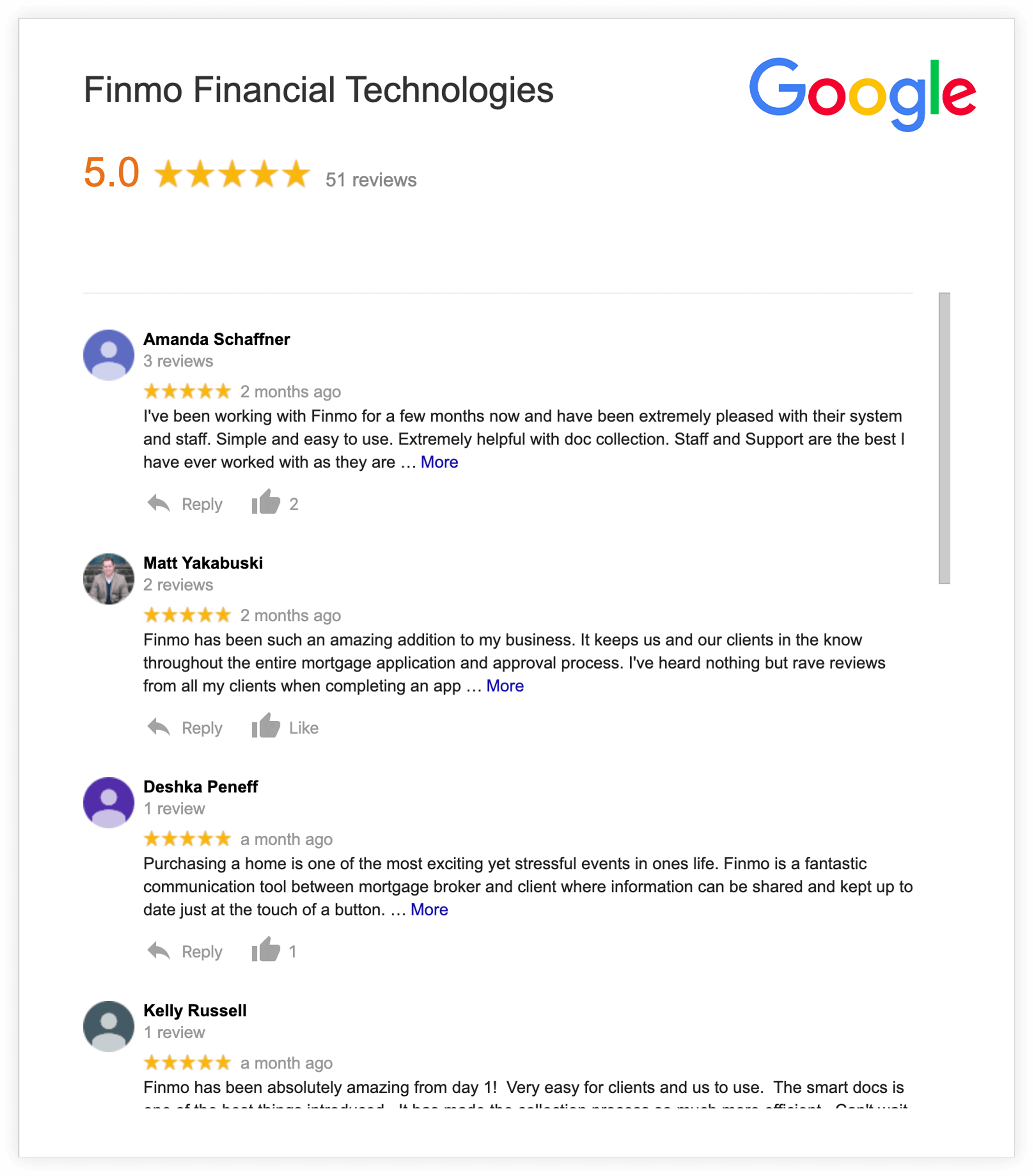 Try Finmo
Thank you for reading our whitepaper on Digital Mortgage Platforms. If you believe Finmo would be a good fit for your mortgage brokerage, please schedule a demo with us. book a discovery call with us to get started.