It features brief descriptions of popular online tools and their use cases for originating mortgages online.
Contents
---
Going remote
Our experience and advice
Here at Finmo, we've been a remote company for more than 2 years. We officially surrendered our Calgary office nearly a year ago. At the time around half of us were working there, with the other half working remotely.
Why we went fully remote
There are a lot of pros and cons to both working in an office and working remotely. However, we found there was additional inefficiency created by trying to work both in an office and remotely at the same time.
What would repeatedly happen was that discussions would take place in the office and fail to be relayed to the remote staff (and vice versa). It was apparent that having multiple communication channels was problematic. From our experience, the problems were simply caused by human nature – not something we could easily fix. It's natural to talk to someone in the office and make a quick decision, but it's fairly unnatural to then sit down at a computer and write to everyone else what was said and what the decision was and all the proper context. We solved this by going entirely remote, and now all communication easily reaches everyone in the company. Additionally, by using digital tools available to us, the majority of communication is automatically recorded and accessible for future reference.
It is from this experience that we offer you this valuable piece of advice:
Do not have only a portion of your team remote working. If you are going to work remote, work entirely remote. If you are going to work at an office, work entirely at an office. Otherwise you lose the benefits of both.
---
Transitioning to a remote work environment
Software substitutes for in-person processes


In-person process
Remote working equivalents
Mortgage App Intake
Finmo
Doorr
Velocity
Documentation Intake
Finmo
Floify
FileInvite
Document signing
Finmo
Floify
Docusign
Client meetings
Google Meet
Intercom
Calendly
Team meetings
Google Meet
Zoom
Google Calendar
Team communication
Slack
Microsoft Teams
Google Meet
Project planning
Trello
Basecamp
Monday.com
Scheduling
Google Calendar
Calendly
Slack
Lead generation
Nova Agency
Finmo
Facebook ads
Client follow-up
BluMortgage
Salesforce
Pipedrive
Sales networking
LinkedIn
Calendly
Google Meet
---
Remote mortgage app intake
The software we recommend for this is: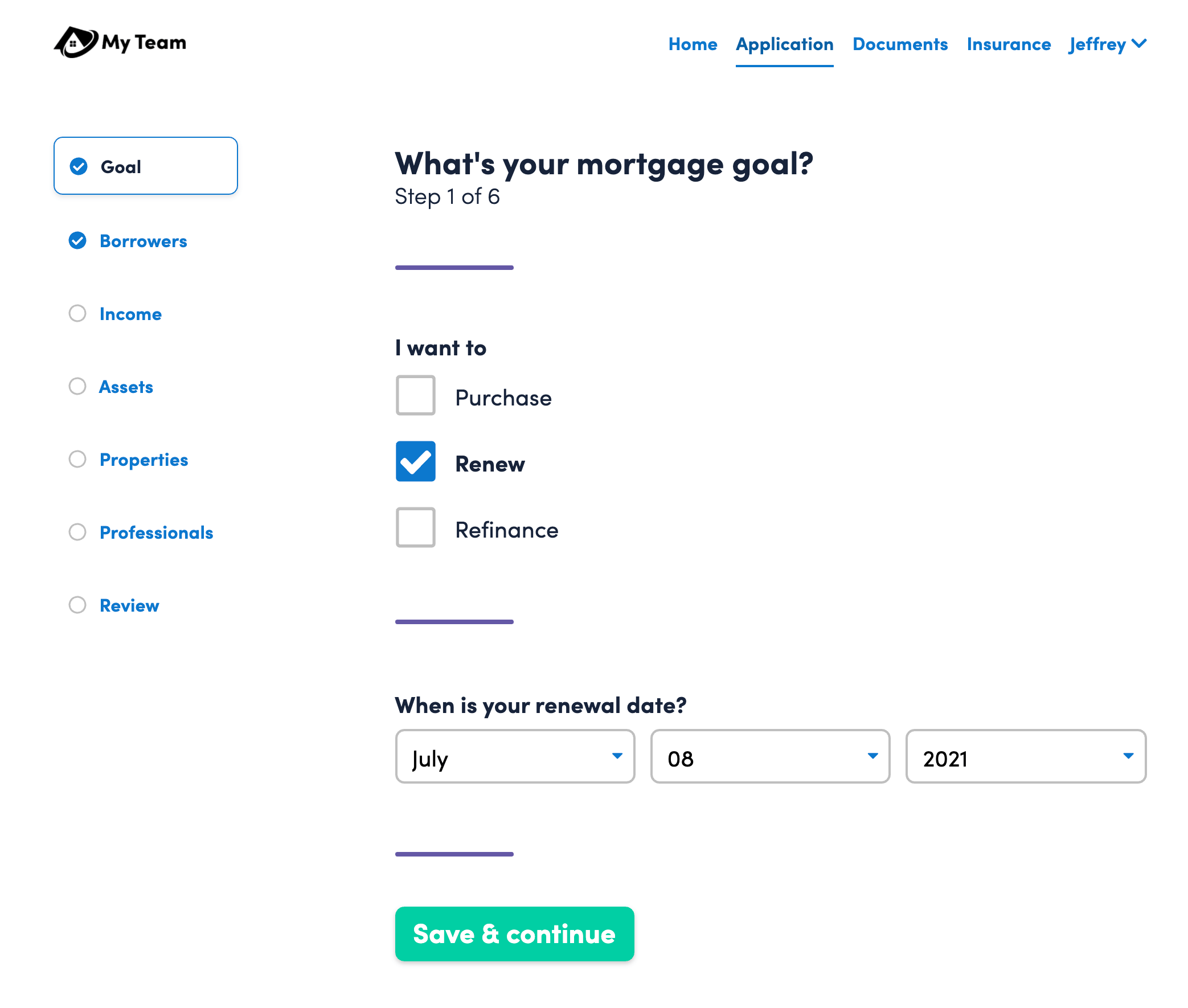 The fastest and best way we know of to remotely intake mortgage applications is of course, us – Finmo! We built Finmo from the ground-up to facilitate remote mortgage originations, so it's really no surprise that we feel this way! If you haven't heard of us, you can watch these introductory videos to our mortgage platform, or read our whitepaper on Digital Mortgage Platforms.
To perform mortgage application intake remotely:
Alternative software:
---
Remote mortgage documentation intake
The software we recommend for this is: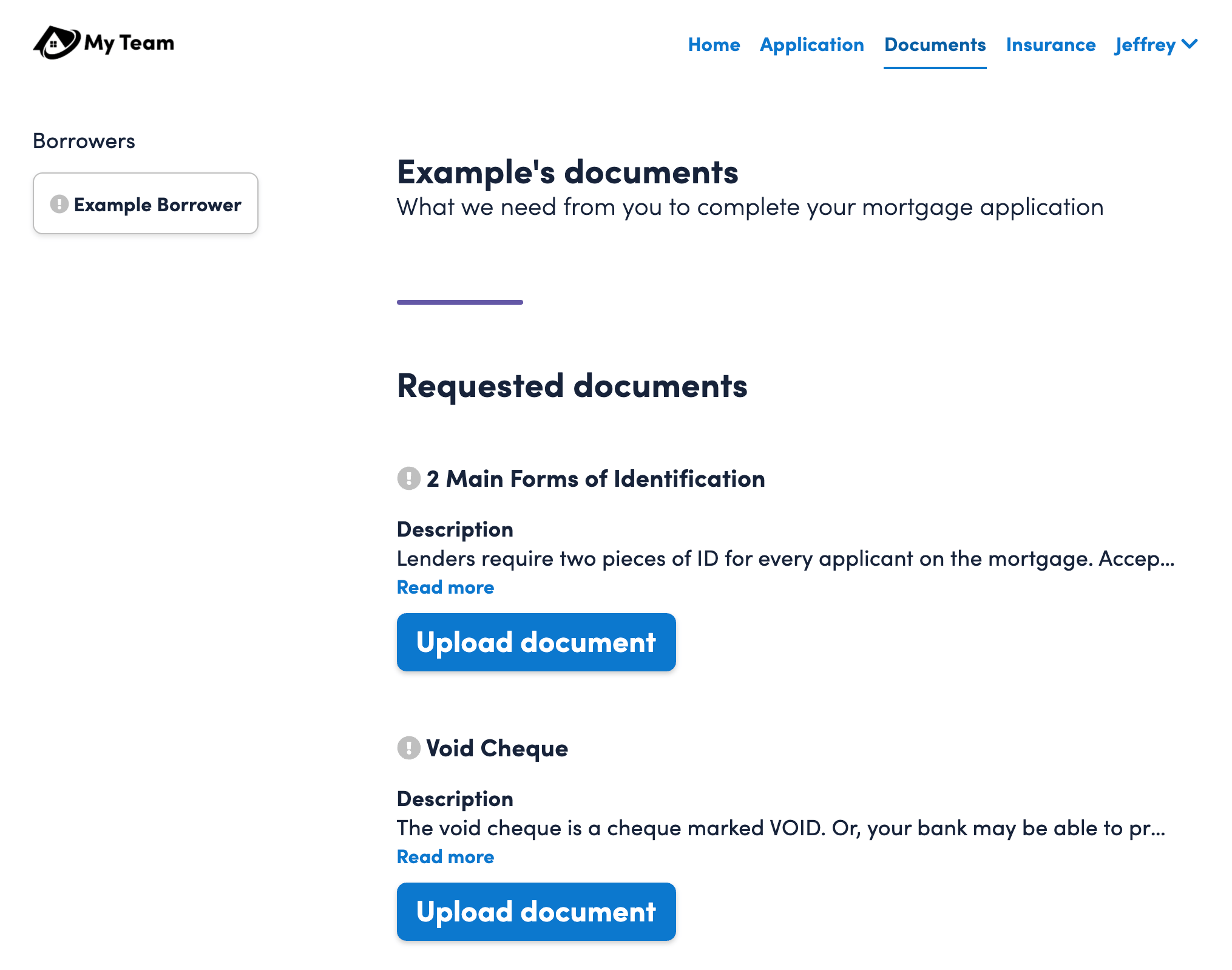 For remote documentation intake our recommendation is again, of course, Finmo. Finmo has the ability to analyze borrower's applications and request the appropriate documentation for the deal completely automatically. This functionality is completely turn-key – that's hard to beat!
To perform mortgage documentation intake remotely:
Alternative software:
---
Remote document signing (e-signatures)
The software we recommend for this is: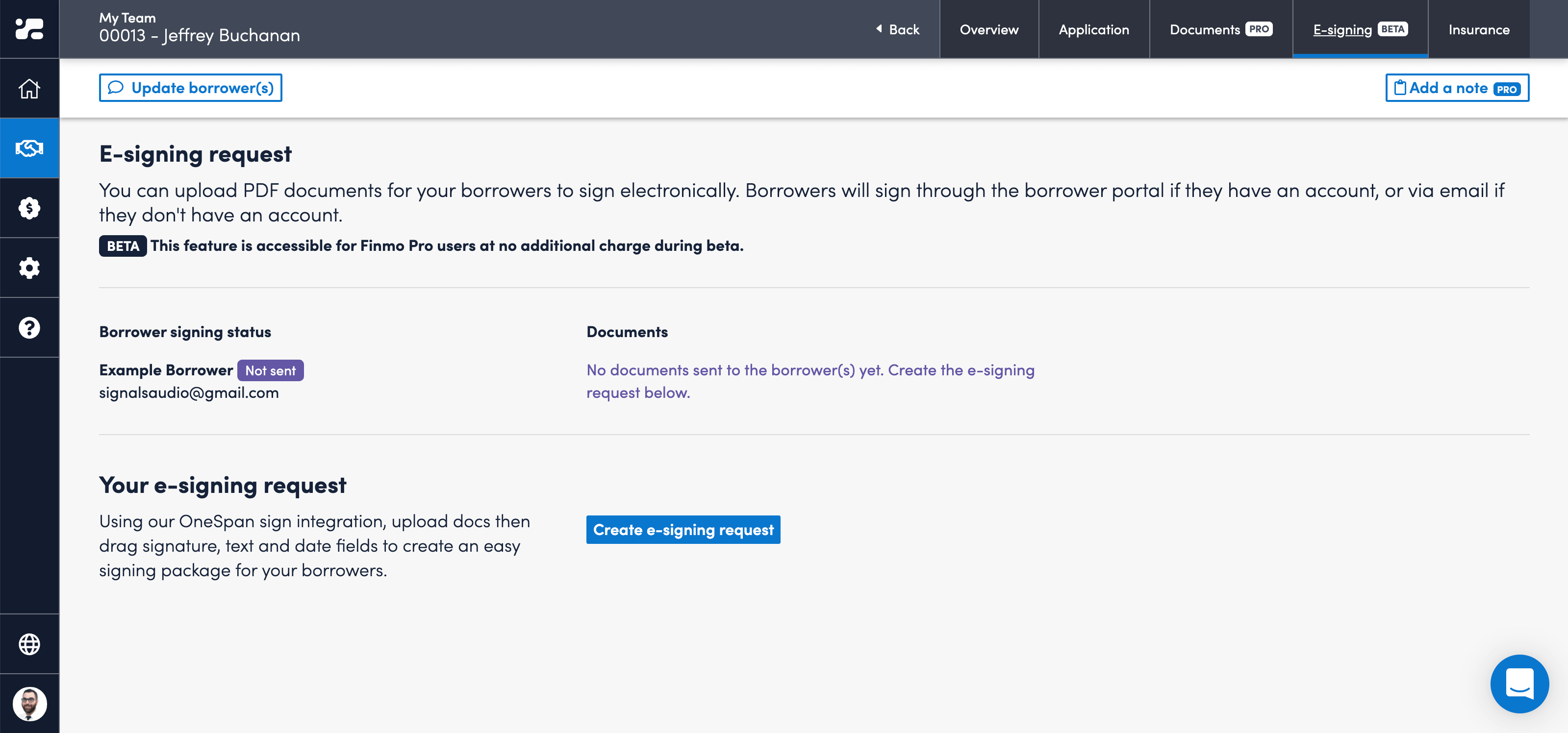 Finmo includes e-signing functionality from a major e-signature provider right inside the platform. The advantage to this is that all of your documentation, including documents with e-signature requests, are kept in a single, secure location inside Finmo. Unlimited e-signing is included with a Finmo Pro subscription. This negates the need to subscribe to an additional e-signature service, saving you money.
To perform document signing remotely (e-signatures):
Alternative software:
---
Remote client meetings
The software we recommend for this is: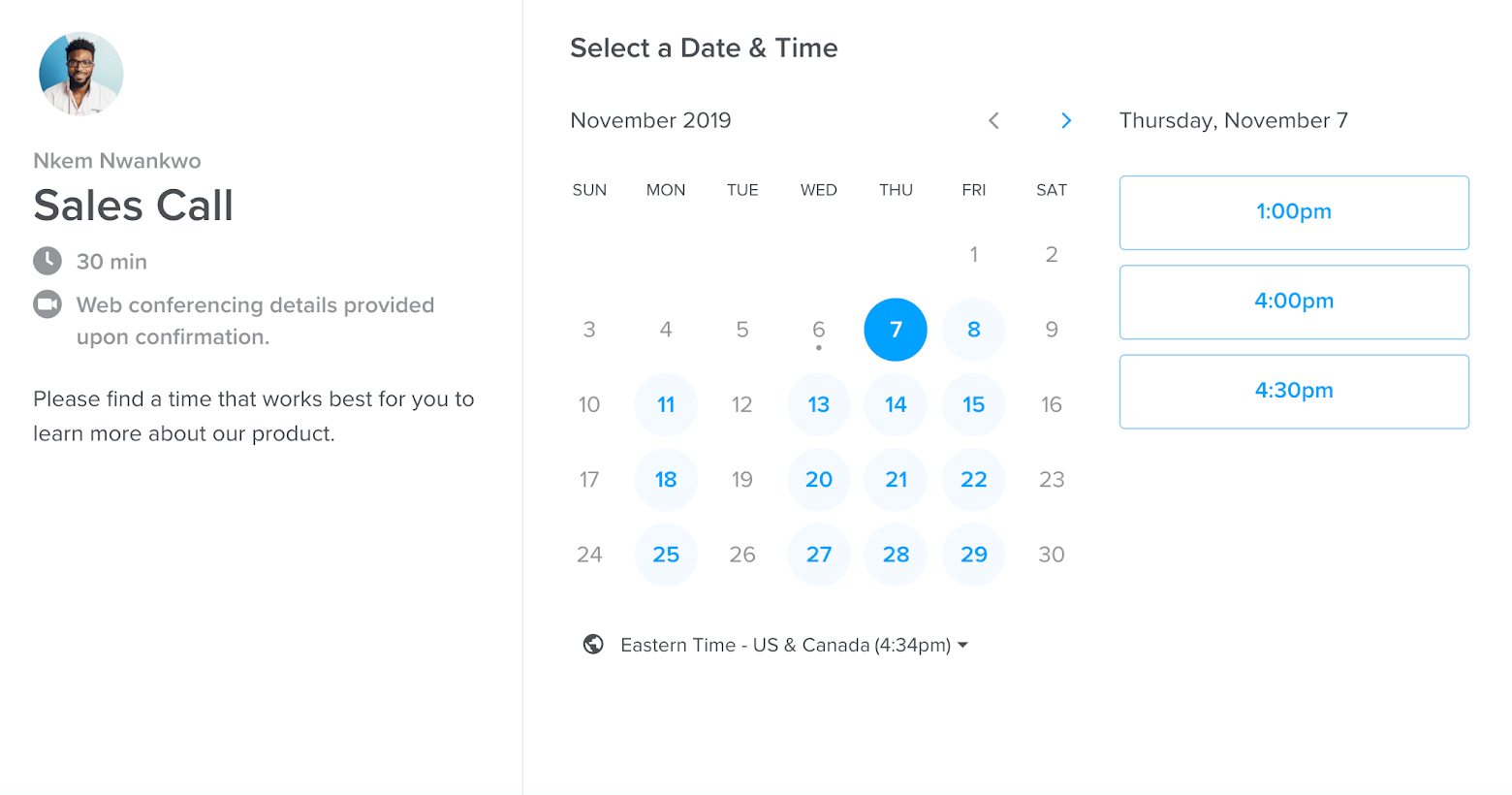 We recommend Calendly for scheduling client meetings. Calendly lets you schedule your availability, and then your clients can book time to meet with you within those times.
Calendly features an excellent integration with Google Calendar, so you keep you and your teams meetings all catalogued in a single place. It increases workplace efficiency to establish "single sources of truth" and avoid having duplicated data across multiple applications or systems whenever possible.
You can also set your Calendly to automatically send a link to a Google Meet video chat which will be automatically created at the time of your meeting. All you have to do is join at the scheduled time (which you can do through Calendly or your Google Calendar), and you're good to go!
To perform client meetings remotely:
Alternative software:
---
Remote team meetings
The software we recommend for this is: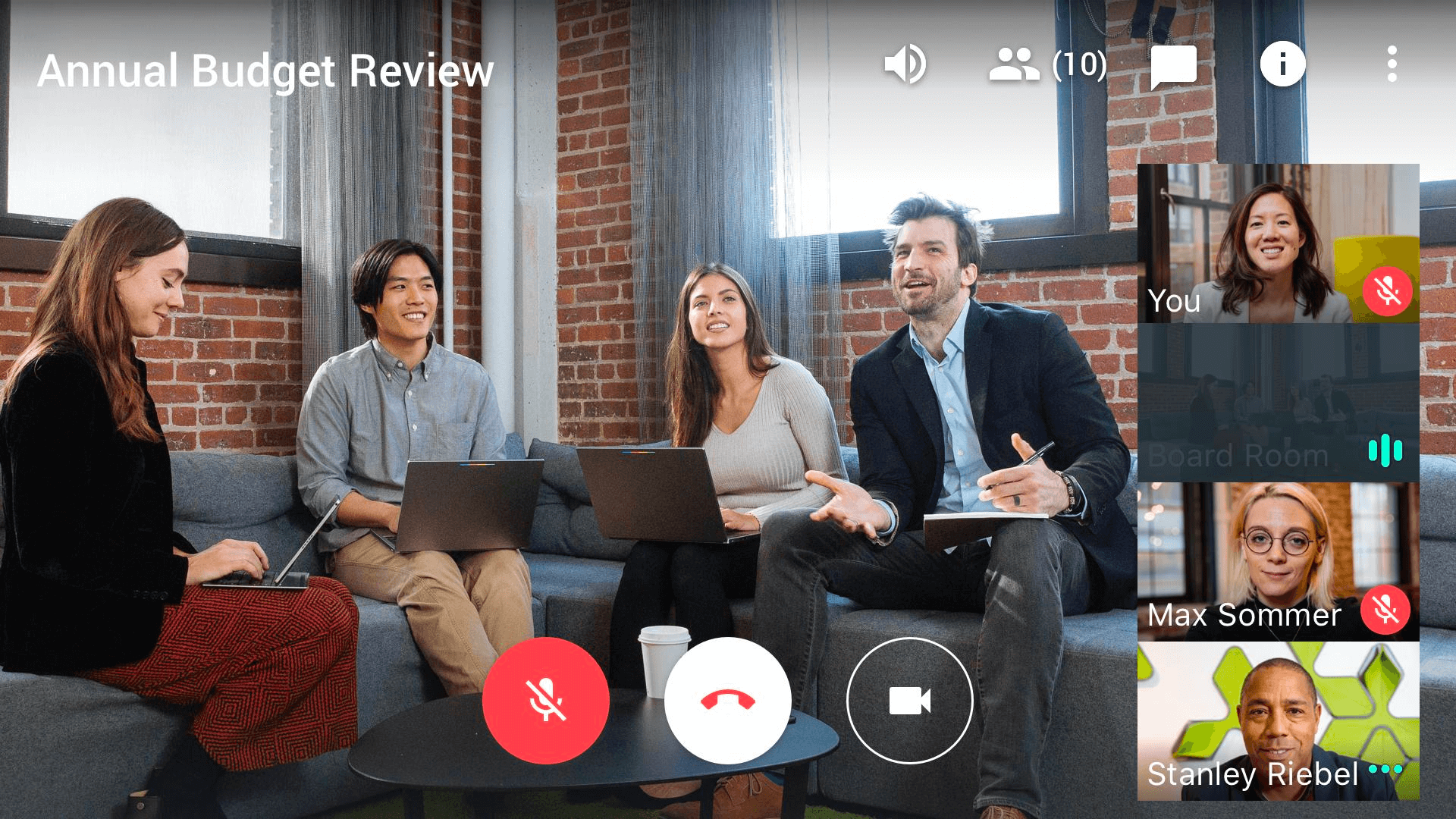 Team meetings can use the same software as client meetings. Google Meet supports up to 100 participants per video call, so it's perfectly suitable for team meetings of all sizes. Google Meet can also record meetings, which can be useful for team members that missed a meeting, or for future reference. Our company (Finmo) has internal reminders of scheduled meetings posted straight to appropriate Slack channels.
We recommend starting by scheduling a team meeting at 9am on Monday, and at 9am on Friday if possible. These can just be general meetings for everyone to talk about what they're working on, any concerns, etc.
Let your teams self-organize their own meetings as much as possible. It may take a while to figure out what meetings are necessary for each department.
Do not force anyone to attend any meeting while working remotely. Let people come to the meetings they find valuable. This helps reduce the number of unnecessary meetings, which is a common problem for companies when they first switch to a remote working environment.
Try to make sure that every meeting has an obvious purpose, and leads to actionable results.
Of course these are just guidelines and not rules. Structure your remote team meetings in whichever way suits your company best.
To perform team meetings remotely:
Alternative software:
---
Remote team communication
The software we recommend for this is: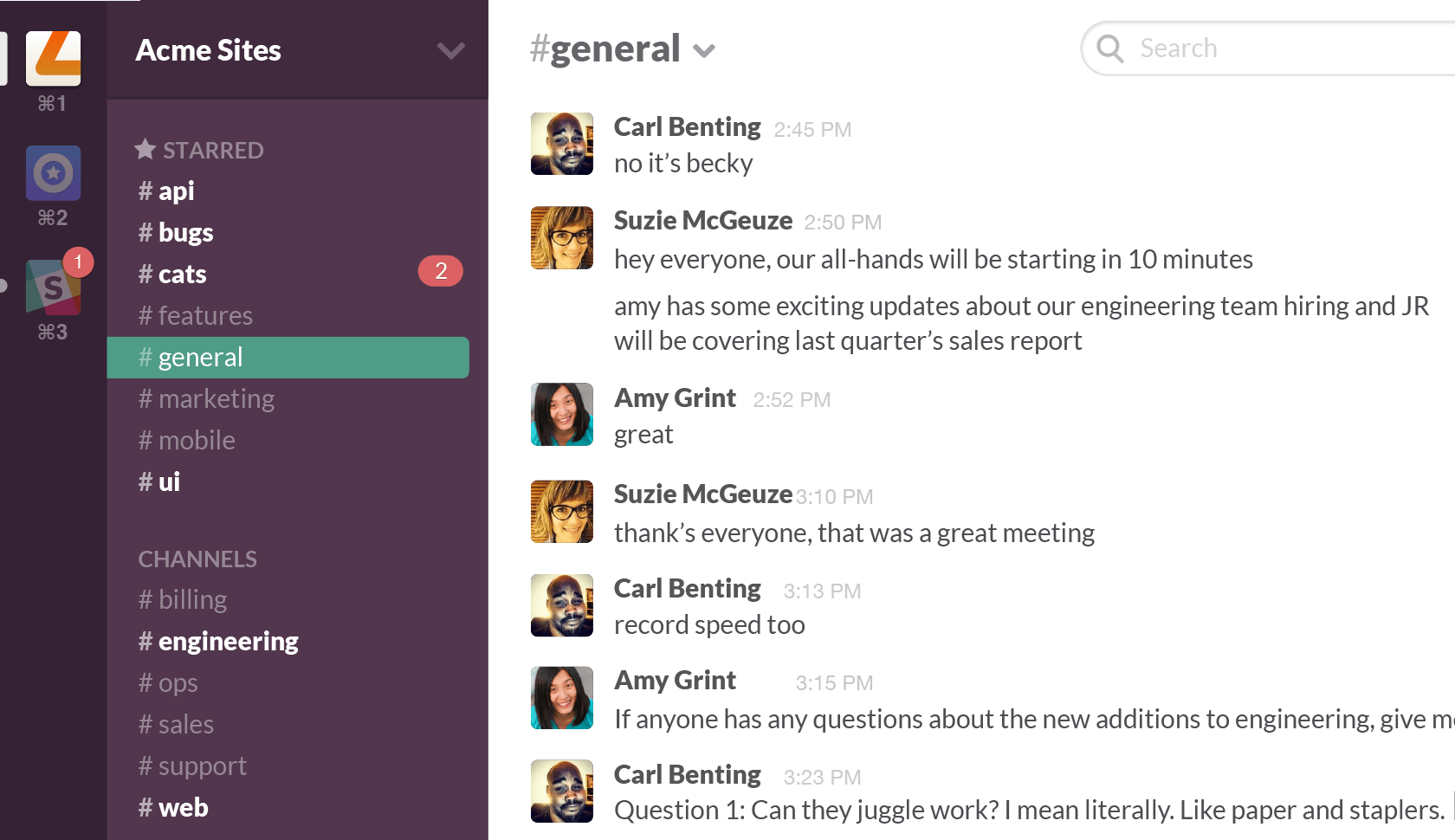 How internal communication is performed is one of the biggest changes from working in an office. In an office, communication is performed through numerous channels: Talking, e-mails, post-it notes, etc.
In a remote working environment, the main channel of communication is via what are essentially elaborate and very flexible "chat rooms". You can think of it like texting on your phone, except a lot more powerful.
There are a few reasons for this change: Firstly, it helps keep a catalog of conversations and decisions made that can be used for reference by all team members at any time. Secondly, because often remote companies have people working in different time zones, communication through video chat software like Google Meet or Zoom becomes impractical. Lastly, communicating through the written word provides ways of easily categorizing communications, such as communications between teams, or communications about certain topics. This is a massive and important advantage over e-mail.
Additionally, Slack has started implementing it's own video calling and screen-sharing functionality right inside the platform. At the time of writing, this functionality is not as robust as competing video-calling solutions such as Google Meet or Zoom – but that might not be the case for long.
To perform team communication remotely:
Alternative software:
---
Remote scheduling
Remote project planning
The software we recommend for this is: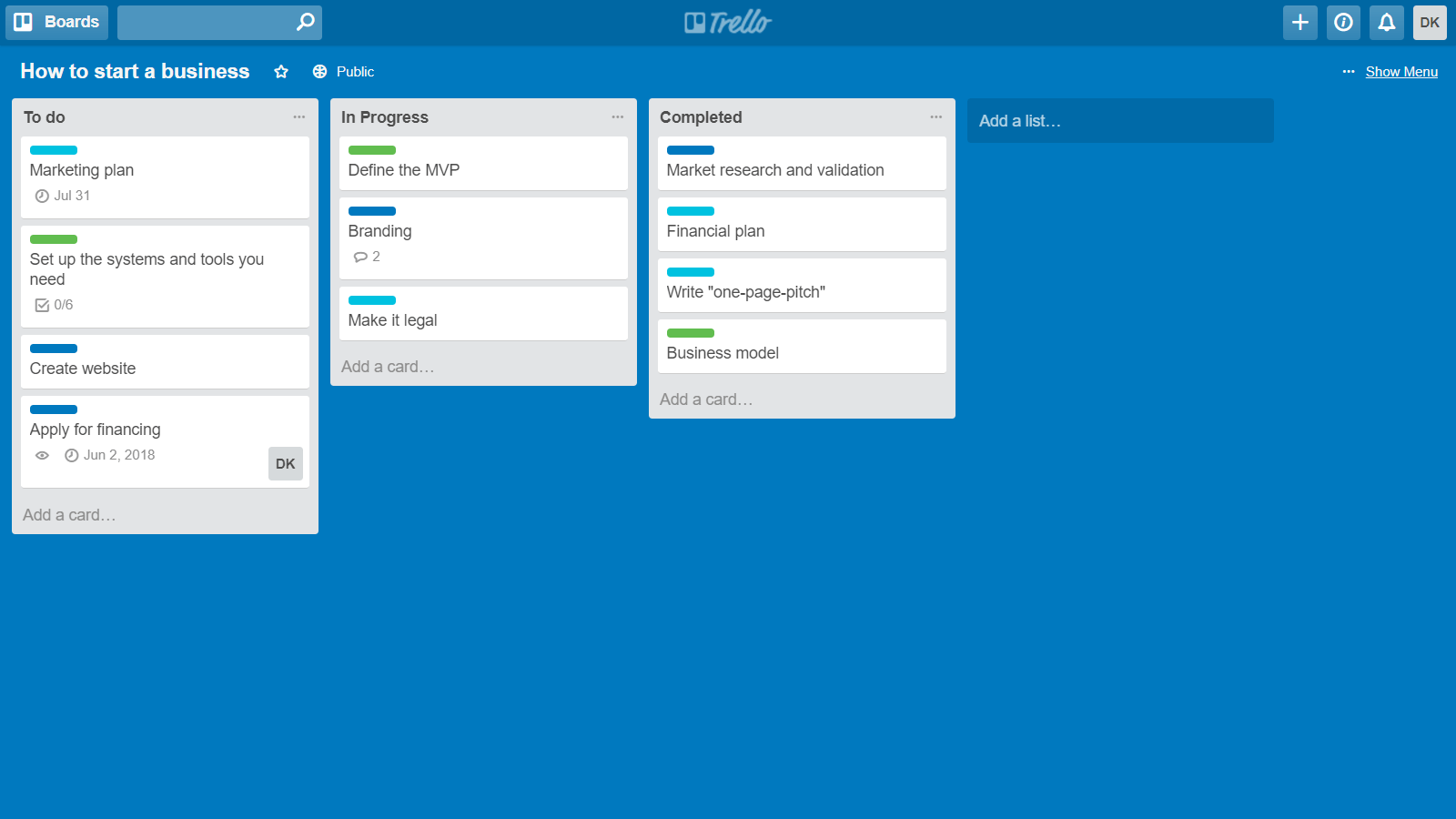 Sometimes companies have internal initiatives that require oversight. These initiatives often involve a team of coworkers working toward a common goal, and often take the form of projects. It helps to maintain accountability in a remote working environment to monitor the progress of these projects.
Trello provides an excellent place to do this. It facilitates virtually any process through simple, easily customized "kanban boards". Projects are created as "cards" on a board, which are then moved to different "stages" dependant on their progress. Once the card has moved left side of the board (where it starts) to the right side, it has been completed.
To perform project planning remotely:
Alternative software:
---
Remote scheduling
The software we recommend for this is:
It's important for everyone in a company to have a "single source of truth" for meeting times, events, etc. Google Calendar provides an excellent platform for this. It is powerful because calendars can be created and shared amongst teammates. Google Calendar also supports powerful integrations with Calendly and Slack, which help make things even more efficient.
Here at Finmo, we use Google Calendar's integration with Slack to post reminders of upcoming meetings. Additionally we use Google Calendar's Calendly integration internally to book video chat meetings with specific teams or colleagues – without the need to send a zillion e-mails back and forth to find out when everyone is free.
To perform scheduling remotely:
Alternative software:
---
Remote lead generation
The services we recommend for this are: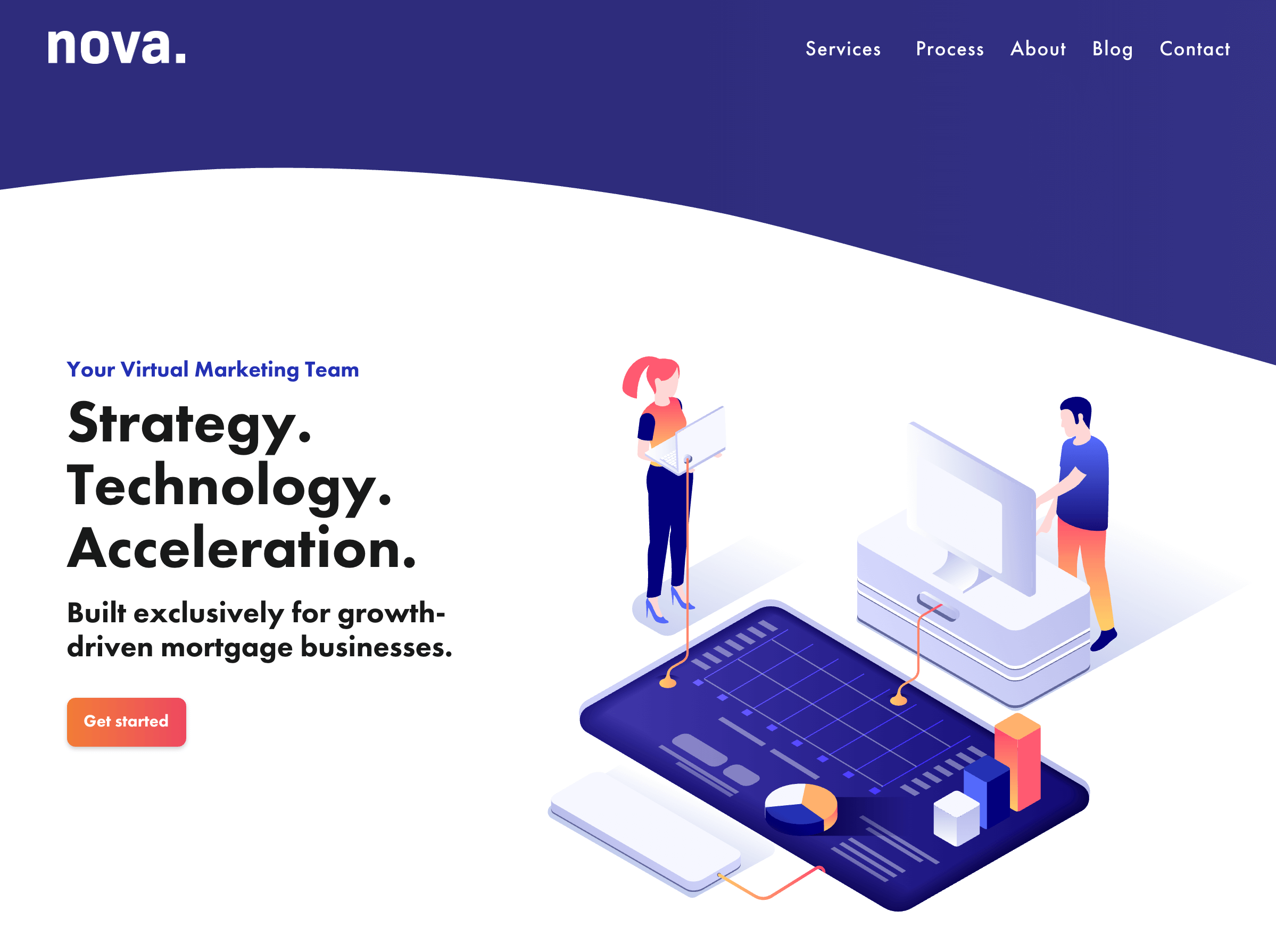 The software we recommend for this is: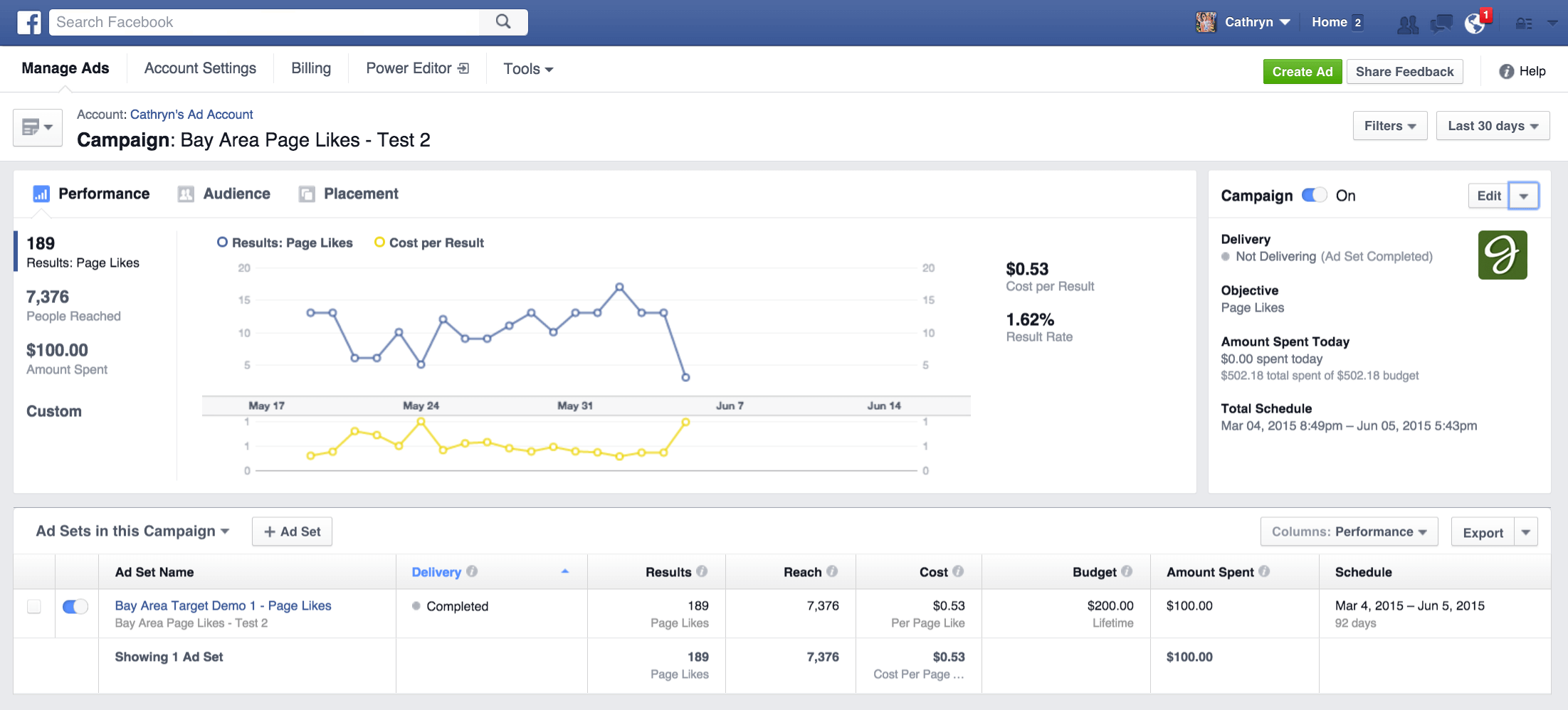 Online lead generation is as much of an art as it is a science. There are two potential ways to go about online marketing that will lead to the desired results.
The first way is to hire an expert. There are many marketing companies out there that are more than willing to talk to you about your advertising goals and help you fulfill them. At Finmo, we prefer one agency over all others in this regard – Nova Agency. Nova Agency is the only marketing agency in Canada that is focused exclusively on mortgage professionals. Their intimate understanding of the mortgage industry is why their marketing gets results, where competitors fall flat.
The second way is to become an expert. This is definitely feasible, but it is potentially a serious time commitment. YouTube has a vast wealth of tutorial videos on how to create and optimize advertising campaigns. There are also amazing, in-depth training courses available on Udemy and Lynda.
If you do choose the do-it-yourself route, you should note that Finmo's world-class lead generation calculators provide an excellent landing page for advertising campaigns. Not only do the calculators filter out borrowers who clearly can't afford or are not ready to purchase yet (which you will get a lot of when you run online ads), they also collect full mortgage applications and documentation automatically. We highly recommend you use them in your marketing campaigns.
To perform lead generation remotely (turn-key solution):
To perform lead generation remotely (do-it-yourself solution):
Alternative platforms:
---
Remote client follow-up
The services we recommend for this are: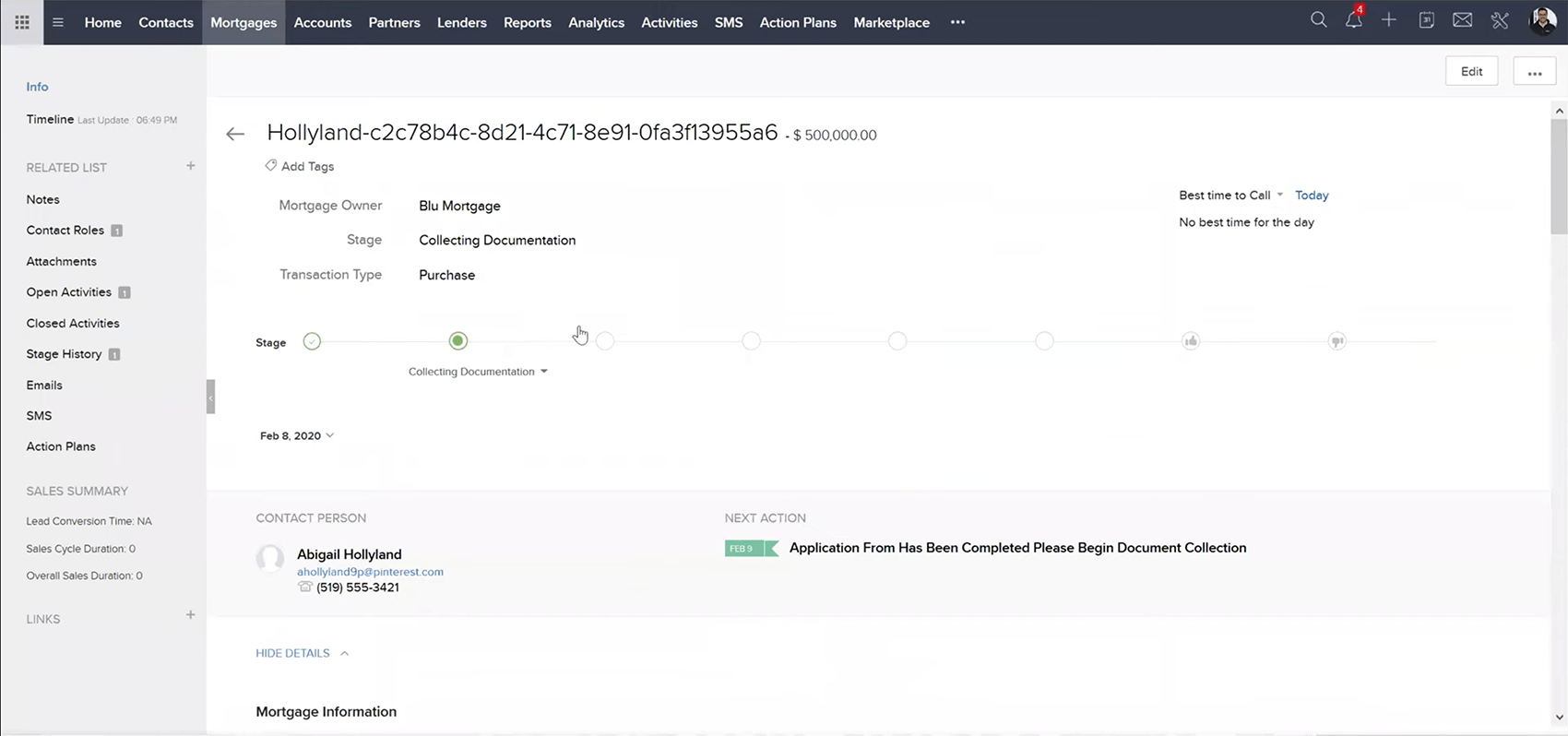 The software we recommend for this is: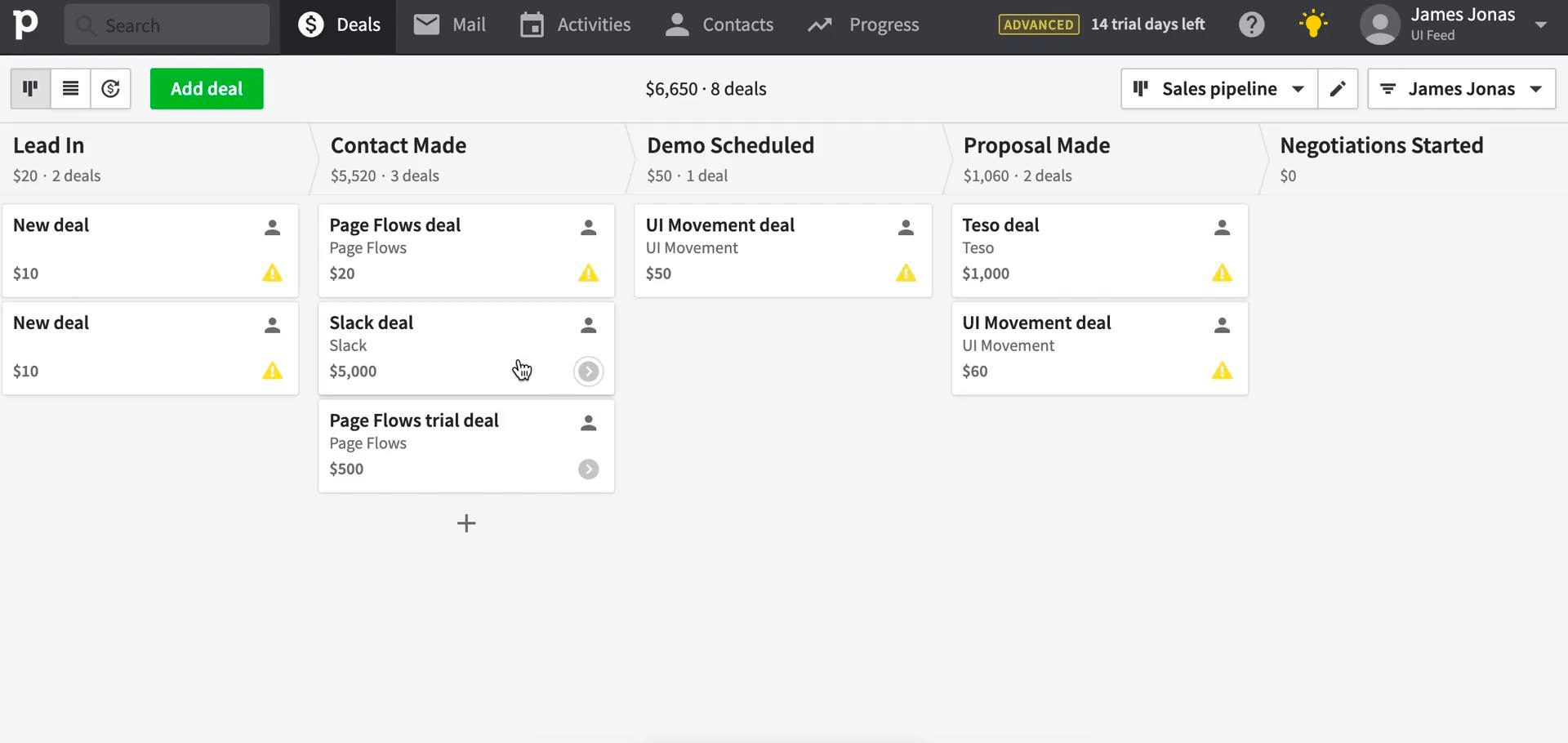 Remote client follow up involves a type of software known as a CRM (Client Relationship Management software). Many mortgage professionals are already familiar with and use CRM software. If you are not using CRM software yet, you will be extremely pleased when you do, because it makes life a lot easier!
This type of software manages your relationships with your borrowers at every stage of the mortgage origination process – from lead to past client. They not only keep track of what stage your borrowers are at in the mortgage process, but are flexible and extensible enough to perform other actions as well. They can create "tasks" for you at each stage, so that you never forget to perform a critical action for your clients. Additionally, many CRM platforms have the ability to automatically send out e-mails or other communications to borrowers based on certain criteria being met. Most CRMs are not built specifically for mortgage professionals, and need to be customized to the mortgage origination process. However, there are also companies that pre-customize CRMs for mortgage professionals. One such company is our (Finmo's) partner, BluMortgage. They have the most comprehensive CRM turn-key solution available to mortgage professionals. BluMortgage features include pre-set sales stages, tasks, e-mail campaigns and even automated reports.
If you choose to customize your own CRM to your unique mortgage origination process, we recommend starting with Pipedrive. Pipedrive is simple yet extremely powerful CRM. That combination makes it an excellent starting point for diving into the world of CRM software.
To perform client follow-up remotely (turn-key solution):
To perform client follow-up remotely (do-it-yourself solution):
Alternative software:
---
Remote sales networking
The software we recommend for this is: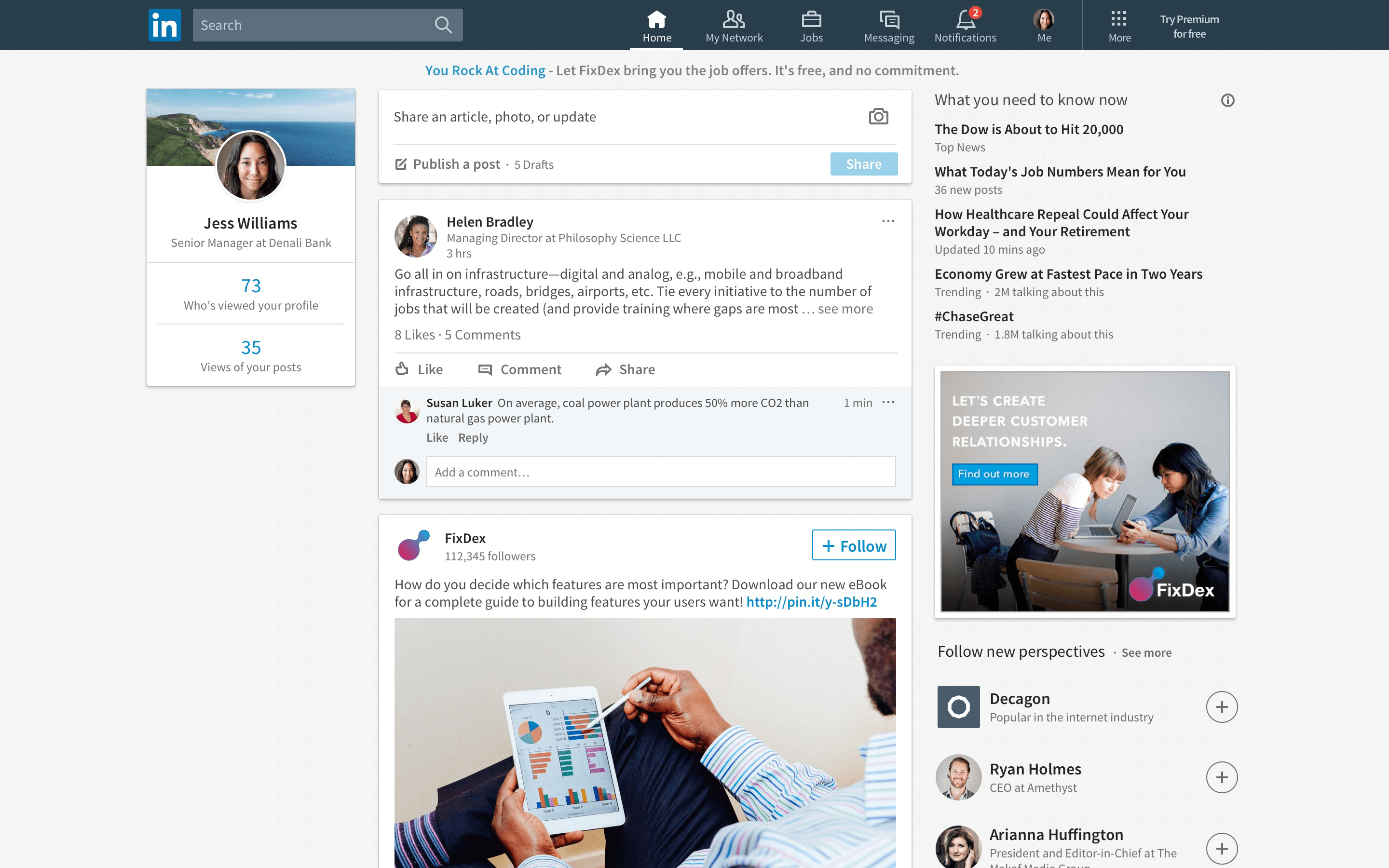 In-person sales networking can be substituted with an online platform: LinkedIn. LinkedIn serves as a catalyst for sales transactions by utilizing it's extensive network of professionals and a unique "who knows who" methodology for what is essentially business "match-making". Mutual acquaintances can introduce you to strategic people who you may want to communicate with. Simultaneously, your acquaintances may introduce other people to you.
You can use Calendly and Google Meet to set up sales calls and close deals.
To perform sales networking remotely:
Alternative platforms:
---
Streamlining your remote mortgage business
Automation
By switching to a remote mortgage origination process, the majority of your mortgage data will be stored digitally. Having your mortgage applications and documents stored digitally enables access to the wonderful world of software automation.
Automation is when we make the computer do the hard work for us. If we find we tend to repeat a tedious action that we end up doing over and over again, there's a good chance we can get the computer to do it for us. Here's how.
Built-in integrations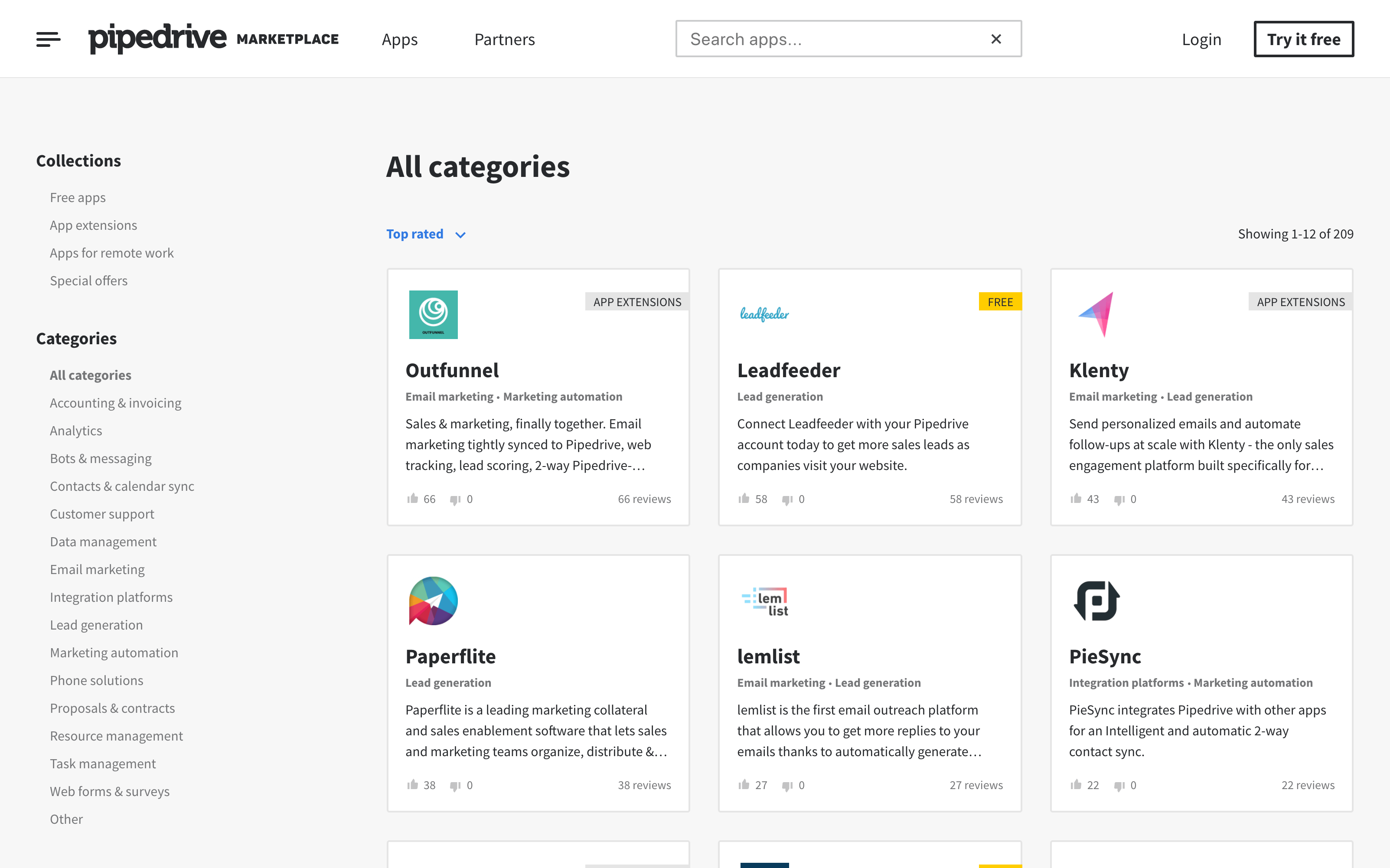 A lot of popular software will have "built-in integrations". This is where the developer of the software has internally created a bridge to another piece of software so that the two pieces of software can interact. These built-in integrations are often found in a software's "market place". Generally, built-in integrations are user friendly and simple to set up, but often times there will not be a built-in solution to fit your unique automation needs. This is where third party solutions like Zapier come into play.
Zapier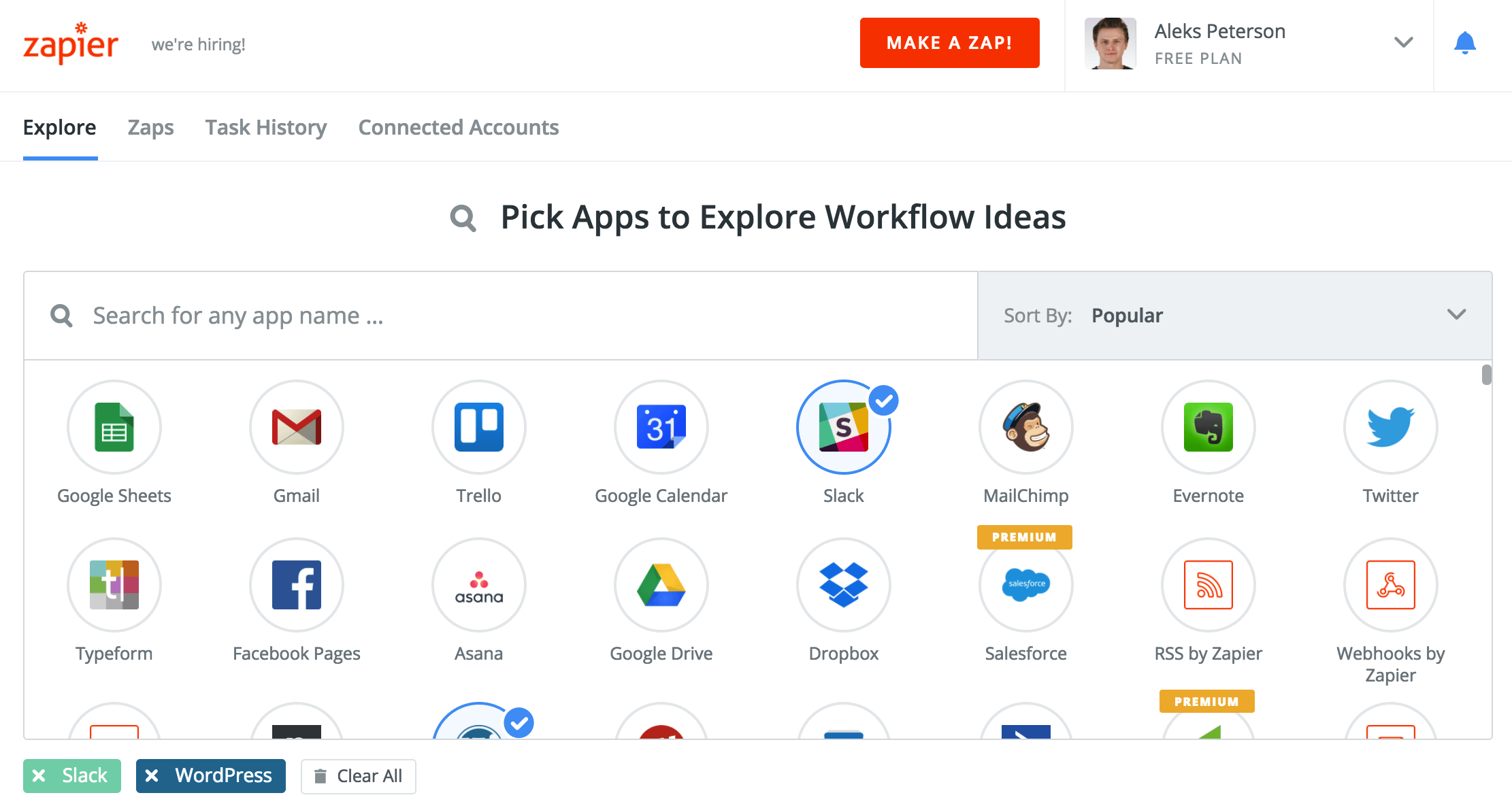 Zapier changed the paradigm of how software "talks" to each-other. Creating built-in integrations takes software developers a tremendous amount of time and effort. Zapier offers developers a simpler alternative – connect to a single system (Zapier) which then in-turn connects to all of the others. That's what Zapier is, and does. It acts as an online hub that sits in between software and facilitates the exchange of data and information. Thousands of apps (including Finmo) are connected to Zapier. The amount of automation possible by connecting software to Zapier is virtually unlimited.
---
Finmo resources
Finmo help centre
The Finmo help centre is a searchable index of over 130 articles on Finmo. The articles are grouped into easily navigatable categories, and are an indispensable resource for self-learners. We understand that not being able to find an answer to a problem can impact productivity, so we strive to provide the best documentation of any Digital Mortgage Platform.
Finmo Youtube channel
The Finmo YouTube Channel contains all of our video resources. It has more than 50 videos, including training videos, webinar sessions, tips and tricks, and more! It's a great way for visual learners to get acquainted with Finmo quickly. We recommend starting with these Finmo introduction videos.
Customer success team
Our customer success team is available during regular work hours (and often after hours) through the following channels:
---
Finmo internal survey
On January 28th 2020, we performed an online survey of 129 of our users.
Do you believe Finmo is helping you close more deals?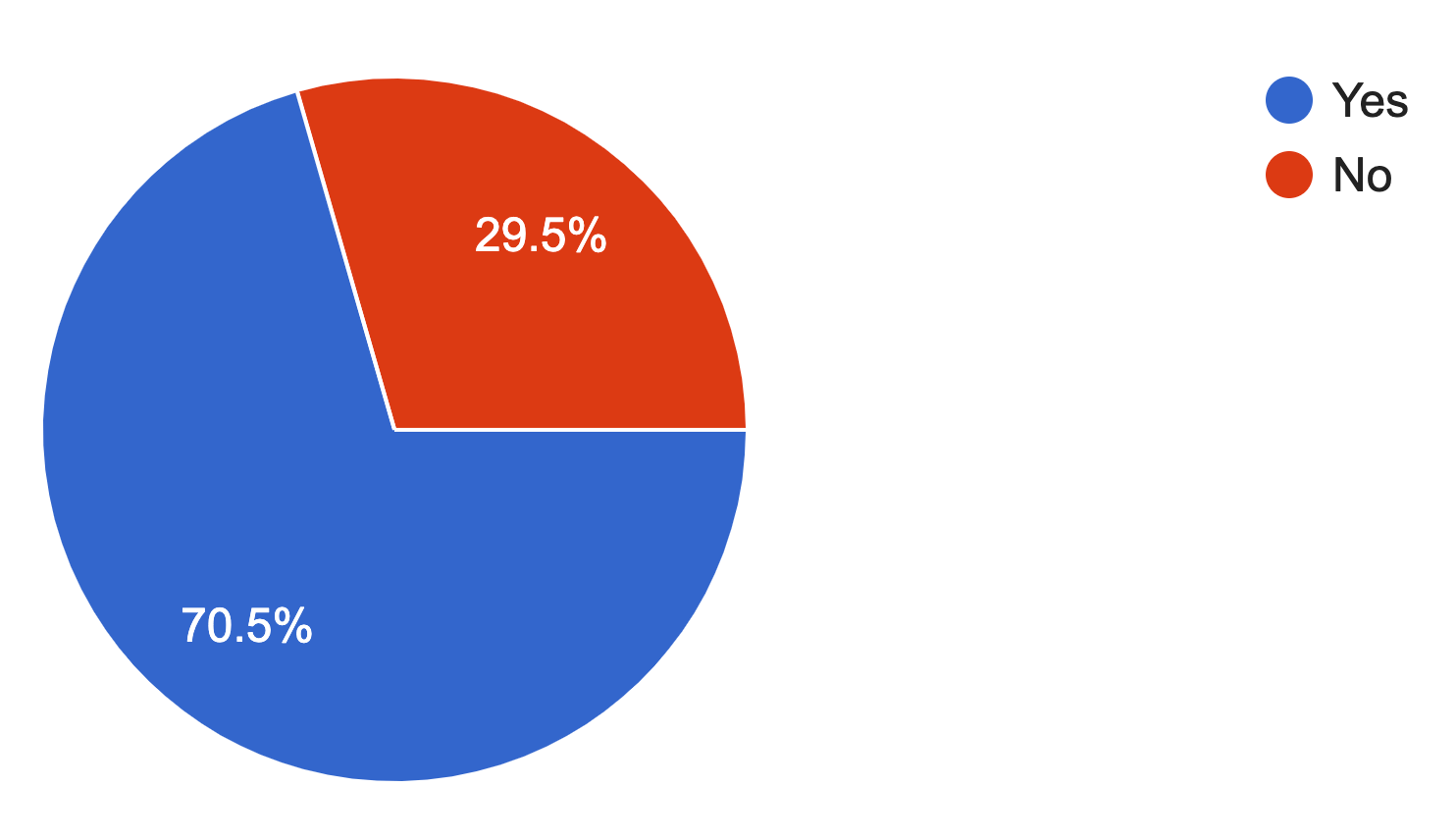 How would you rate the customer support available to you?

How likely would you be to recommend Finmo to a colleague?

---
Finmo user reviews
Finmo has more than 50 five-star Google reviews